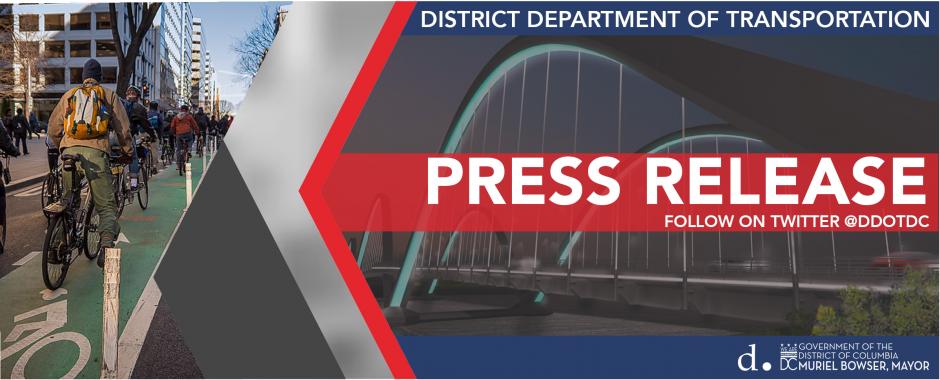 FOR IMMEDIATE RELEASE
Media Contacts
DDOT to Install 100 Off-Sidewalk Parking Corrals for Dockless Vehicles

(Washington, DC) -- Today, the District Department of Transportation (DDOT) announced a plan to install 100 off-sidewalk dockless scooter and bike parking corrals across all eight wards of the District over the next several months.

"These off-sidewalk corrals provide a designated area where both shared dockless vehicle operators and riders and private vehicle riders can safely store their vehicles," said DDOT Director Jeff Marootian. "By placing these corrals in no-parking zones near intersections, we are fulfilling Mayor Bowser's vision of creative problem solving to make our streets safer for all users."

DDOT will also improve safety of sidewalks and intersections by placing the corrals in the area between stop signs and the start of the parking zone, ensuring that illegally parked cars do not block visibility of crosswalks and intersections. The off-sidewalk corrals were first piloted in business improvement districts and commercial areas where higher numbers of dockless vehicles were expected to be parked. The new locations focus on residential areas where sidewalks are narrower and more likely to be blocked by an improperly parked dockless vehicle, based on feedback DDOT received from residents.

These areas allow companies to easily identify dedicated space to deploy dockless bikes and scooters to residential neighborhoods in compliance with DDOT's program requirements. The corrals are also available for residents to start and end their dockless bike and scooter trips. A map of installed and planned off-sidewalk parking corrals is available on DDOT's website.

Corral Plan Follows Update to Residential Permit Parking Regulations
The parking corrals are another component of DDOT's effort to improve safety and visibility for all roadway users at intersections District-wide. In 2019, DDOT updated the District's Residential Permit Parking (RPP) regulations to include language that clearly defines minimum parking distances at intersections. 
The updated regulation eliminated the exception for vehicles with in-zone RPP stickers to park overnight closer to the intersection than best safety practices and signage would allow. Drivers parking on an RPP-zoned street should look for the last RPP sign on the block and ensure that their vehicle does not extend beyond that signpost.
On District streets where parking is allowed, drivers should generally park no closer than 40 feet from the intersection, unless there is signage indicating otherwise. Where a street has parking signage, all drivers must obey the signs and avoid parking in "no parking" or "no standing" zones approaching intersections. 
###
The mission of the District Department of Transportation (DDOT) is to enhance the quality of life for District residents and visitors by ensuring that people, goods, and information move efficiently and safely with minimal adverse impact on residents and the environment.
Follow us on Twitter for transportation-related updates and more; like us on Facebook and follow us on Instagram. Visit the website at ddot.dc.gov. Visit goDCgo.com for more information on transportation options in the District.